Upgrades and Replacement Parts
Note for new users
This page is not required reading for initial setup. It is for users who are looking to expand their existing AutoFarm3D setup, or need replacement parts.
If you're just getting started with AutoFarm3D and don't know where to start, we recommend purchasing the Print Farm Hub which includes all the hardware you need to get started.
Then, follow the Quick Start Guide to get up and running.
Are you looking to expand your AutoFarm3D setup? Or maybe you need replacement parts? We have tested and recommend the following hardware for the best results.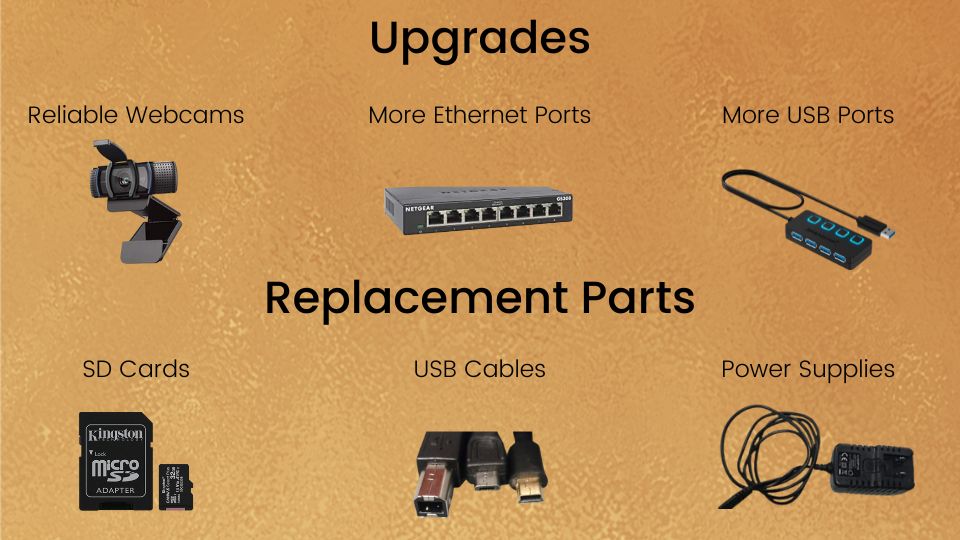 1. SD Cards​
If you have lost or damaged your microSD card, you'll need a replacement to get your Hub up and running again.
The microSD card we ship with every Print Farm Hub is Kingston 32GB Canvas Select Plus SDHC Class 10 SD Memory Card.
While other microSD cards are known to work, we recommend using this specific card for reliable results.
2. Network Switches​
Need more ethernet ports?
Netgear ethernet switches have been tested and work well with the Print Farm Hub. We recommend the NETGEAR 8-Port Gigabit Ethernet Unmanaged Switch. It is relatively inexpensive and has 8 ports, which is enough for 7 hubs and 1 connection to your router.
3. Webcams​
Webcams let you monitor your printers remotely, either on your local network or when you're on the go using Quinly Tunnel.
The Logitech C920 is a reliable webcam with auto-focus and a wide field of view. It works well with QuinlyVision and the Print Farm Hub.
Other webcams are known to work, but we recommend the Logitech C920 for the most reliable results.
4. USB Splitters​
Need more USB ports? The Print Farm Hub only has 3 USB ports, but you can connect up to 6 printers using a USB splitter.
The Sabrent 4-Port USB 3.0 Hub is a reliable USB splitter that works well with the Print Farm Hub.
Make sure your Hub is set to 'worker' mode before connecting more than 4 printers. See this page for more information.
5. USB Cables​
USB cables connect 3D printers to your hubs. You can normally just use the USB cable that comes with your printer. If you need to purchase additional cables, we carry 3 foot USB cables of each type in our online store. Please note that the cables in our store are add-ons only and cannot be purchased separately. Other cables are known to work, but we recommend using the cables we sell for the most reliable results.
If you do use your own cables, avoid excessively long USB cables. We recommend a maximum length of 5 feet. And make sure it's a data cable, not just a charging cable.
6. Hub Power Supplies​
Print Farm Hub (Rock64)​
All print farm hubs are shipped with a 5V 3A Switching Power Supply With 3.5mm OD/1.35mm ID DC Jack
Raspberry Pi 4​
The Raspberry Pi 4 requires a 5V 3A power supply. We recommend the CanaKit 3.5A Raspberry Pi 4 Power Supply.
Tip
Please plug in your power supply to a clean power source. Ideally a UPS, but if not, a surge protector. This will help prevent damage to your hardware. Please also avoid plugging Pi or Rock64 power supplies into circuits with other high power devices such as space heaters, air conditioners, kettles, etc. as this can cause voltage drops which could result in your Pi or Rock64 rebooting mid-print.